Meeple Station
Meeple Peeple News - Your Station
---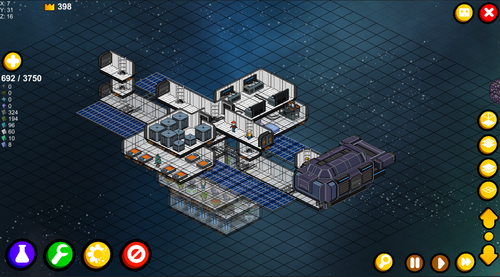 Hey Meeple!
First, we'd like to thank everyone so much for the incredible response to the demo on itch.io! If you haven't tried it yet, please snag it from our itch page! The feedback we are getting is so helpful, and we want to see even more of it. We want Meeple Station to be a great game, not just a good game!
For this week's look at the game, we are exploring more of how building and customizing your station work, and how to ensure your Meeple are safe and sound on your station.
The moment you delve into your new Station, you'll be able to begin extending corridors, expanding rooms, building airlocks, bulkheads, dining rooms and more. You're the boss, you can design your station any way you'd like. Each station and player experience is entirely unique to them and how they foresee their little Meeple Empire.
The life of a Meeple overlord is not easy, however. There are many facets to your station, and a lot of essential needs. Where does life support go? How will you wire it to your power cells? How will you rig your solar panels to your station? However you want. You might want to create an independent circuit for life support, and another for your refineries. You'll also want pipes to bring fuel from your dilithium processors to your quantum engine. Maybe you don't want to run those toxic fluids through the main dining hall... or maybe you do! Extra toppings with lunch anyone?
One of the great things about your station is that it's yours! Its shortcomings and advantages will be unique to your style. Every decision you make will affect the outcome for your station. Small decisions, like whether to place suit racks inside the airlock room, or outside. Your miners might be so exhausted, the moment they take off their suit they fall asleep on the floor... in the airlock. With some careful planning and a good dose of imagination, your station will continue to expand and grow, allowing you to put more and more Meeple to work.
Speaking of Meeple, we love meeting each and every one of you! If you'd like to meet the team and hang out with us, we're always around on our Discord server. We'll see you next week with more Meeple Peeple News!